The province of New Brunswick is located on Canada's east coast. It's one of the "Maritime Provinces" - those which border the Atlantic ocean.
All maps courtesy of Natural Resources Canada. If you enjoy cartography visit their fantastic "Toporama" website!
3D MAPS TUTORIAL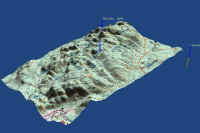 These 3D map images were created using software and files that are all available free on the internet. Putting a map or satellite photo into the third dimension really gives you a great advantage in visualizing the information...and it just looks cool! Learn how to do this by following these steps. It's not complicated but it is time consuming. And a high-speed net connection is a "must"...but if you're patient, it can be done on a dial-up.
WANT TO LEARN HOW TO DO THIS?
CLICK HERE IF YOU HAVE A DIAL-UP CONNECTION
CLICK HERE IF YOU HAVE A HIGH SPEED CONNECTION